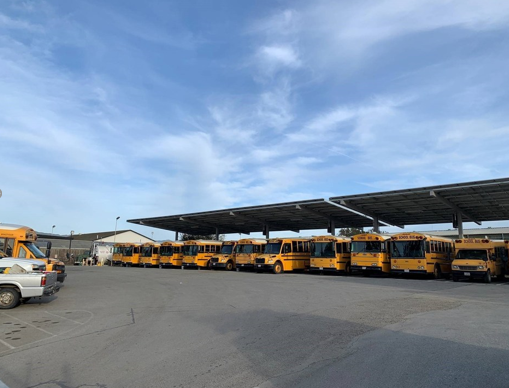 Gonzales USD Energizes New Solar PPA, Will Produce Almost 940,000 kilowatt-hours of Renewable Energy Annually
In a solar implementation strategy being adopted by schools and facilities across North America, Gonzales USD in the Salinas Valley announced the activation of their new solar Power Purchase Agreement, or PPA, project at the start of 2019. The system is now activated and in operation as of this spring. By choosing a PPA framework to implement their solar initiative, aligned with ongoing sustainable campus improvements and student-led "green" initiatives across all district sites, Gonzales USD will capture over $5 million in electricity savings over the term of the 25-year PPA.
Working with a Salinas-based team of engineers from ENGIE Services U.S. and energy consulting firm Sage Renewables, a PPA structure enables Gonzales SD to pass off any typical, upfront costs related to the project to the ENGIE team. Gonzales will benefit from ENGIE's third-party maintenance of the 1,600+ new solar panels now operating at parking and shade canopies at Gonzales High School, Fairview Middle School, and La Gloria Elementary School.
All the adjacent PPA sites are net-energy metered. Through the utility, NEM-A sites provide credit to customers with solar PV systems to capture the full retail value of the electricity their system generates, meaning that the remainder of District sites' energy usage is now offset with the solar system, including offsetting energy use at the Maintenance Yard, District Office, and Somavia High School.
"As we continue to plan, we want to show that we care about the future environment for our students. Solar panels are a clean, green source of energy. They contribute to a sustainable future and help our district reduce operating costs. Solar panels are a step in empowering environmentally-conscious youth," shared Sonia Jaramillo, Gonzales USD Board President.
Commitment to Regional Sustainability
Over the past year, several Salinas Valley agencies, from fellow K-12 districts, to local municipalities, airports, and other service districts, have been embracing sustainable practices through large-scale renewable energy and energy efficiency upgrades, water conservation measures, and other community engagement strategies around sustainability.
In addition to the new solar at all school sites, the Gonzales community has embraced solar power, wind power and energy efficiency through the Gonzales Grows Green (G3) Economic Sustainability Program, led by the City of Gonzales.
Gonzales' PPA project will positively impact G3's leading vision for sustainability in the region, to "allow the needs of current generations to be met in a manner that does not compromise the ability of future generations to meet their own needs." The Gonzales PPA system and other regional Salinas Valley clean energy projects completed by ENGIE are a key component to meet this ongoing goal. Nearly 1 million kWh of clean electricity produced from the project will result in more than 707 metric tons of carbon dioxide equivalent avoided from the grid – or the same as removing 150 cars off the road annually. Working with 10 regional partners across the Salinas Valley over the past decade, ENGIE has helped the region achieve nearly $123 million in energy savings.
Community Support
ENGIE Services North America CEO and President John Mahoney echoed his support for Gonzales'approach to activating a PPA in pursuit of a comprehensive solar option for the District. "As a partner in the region since 2011, the ENGIE team has been proud to work with Gonzales USD as they selected the best energy option for their community. This is a testament to the diverse funding and programmatic delivery options that school districts across the country can choose from to make solar a reality for comprehensive community impact."
Sage Renewables Associate Principal Ilan Fuss added, "This has been a great project for Gonzales USD that will provide long lasting dividends to the community. The District will gain the benefit of reduced operating costs, decrease its carbon footprint, provide shade for students, and raise the profile of cost-effective renewable energy projects in the Salinas Valley."
Category: Featured, General Update, Green, News