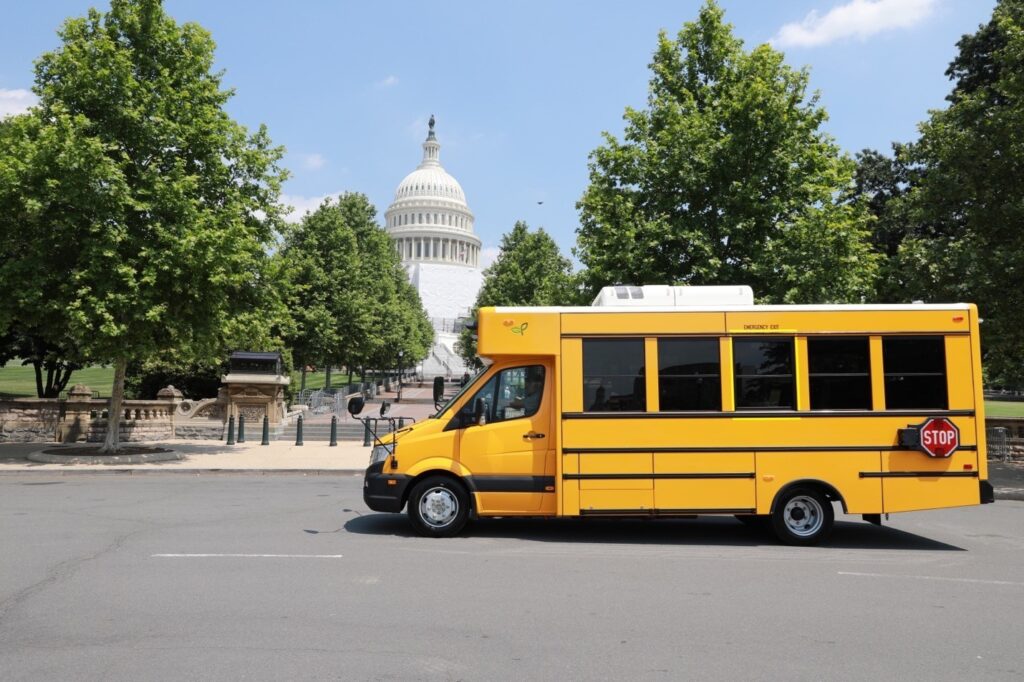 Last month, GreenPower announced the BEAST and Nano BEAST all-electric school buses are eligible for rebates under the EPA Clean School Bus program
GreenPower Motor Company Inc. (NASDAQ: GP) (TSXV: GPV) ("GreenPower"), a leading manufacturer and distributor of zero-emission, electric-powered, medium and heavy-duty vehicles, today hosted an event at the U.S. Capitol demonstrating its lineup of electric school buses including GreenPower's Type D BEAST and Type A Nano BEAST and flagship commercial electric transit vehicle, the EV Star.
GreenPower hosted members of Congress, West Virginia state delegates, school district personnel and the general public to review the health benefits of electric vehicles for our children and communities, the safety and reliability of zero-emission school buses, and various funding programs available to school districts. Participants were able to learn about the BEAST, Nano BEAST and EV Star, as well as the opportunity to speak with lawmakers on investing in advanced mobility, U.S. manufacturing and healthier communities.
"We are honored to showcase GreenPower's purpose-built electric vehicles alongside esteemed officials in Washington D.C. today," said Brendan Riley, President and Director of GreenPower. "It is heartening that so many federal, state, and local officials have taken such an active interest in not only the obvious environmental benefits of zero-emission electric school bus advancements, but the tremendous health advantages for our children and our communities."
The event featured remarks from Sen. Shelley Moore Capito (R-WV), Rep. Paul Tonko (D-NY) and Rep. Nanette Barragán (D-CA). In addition, West Virginia State Senate President and Lieutenant Governor Craig Blair, State Delegates Paul Espinosa and Christopher Toney, and Federal Funds and Grants Director of the WV Dept. of Economic Development, Vic Sprouse spoke at the event.
"Our delegation is happy to represent the state of West Virginia in partnership with GreenPower at the U.S. Capitol in support of electrifying the transportation network and bringing environmentally sustainable vehicles to our streets," said Senate President and Lieutenant Governor Craig Blair. "With rebates of up to $375,000 currently available as a result of the Bipartisan Infrastructure Law, school districts need to make the move to upgrade to electric school buses like the GreenPower BEAST."
Attendees also heard from the Greater Washington Region Clean Cities Coalition and Moms Clean Air Force.
GreenPower is committed to providing innovative, technology forward, purpose-built vehicles to the market and accelerated adoptions of zero-emission vehicles means a healthier and more sustainable environment for our communities and for the future.
Category: Electric Vehicles, Engines & Drivetrains, Equipment, Featured, Fuel & Oil, General Update, Green, News, Tech Talk, Transit News, Vehicles