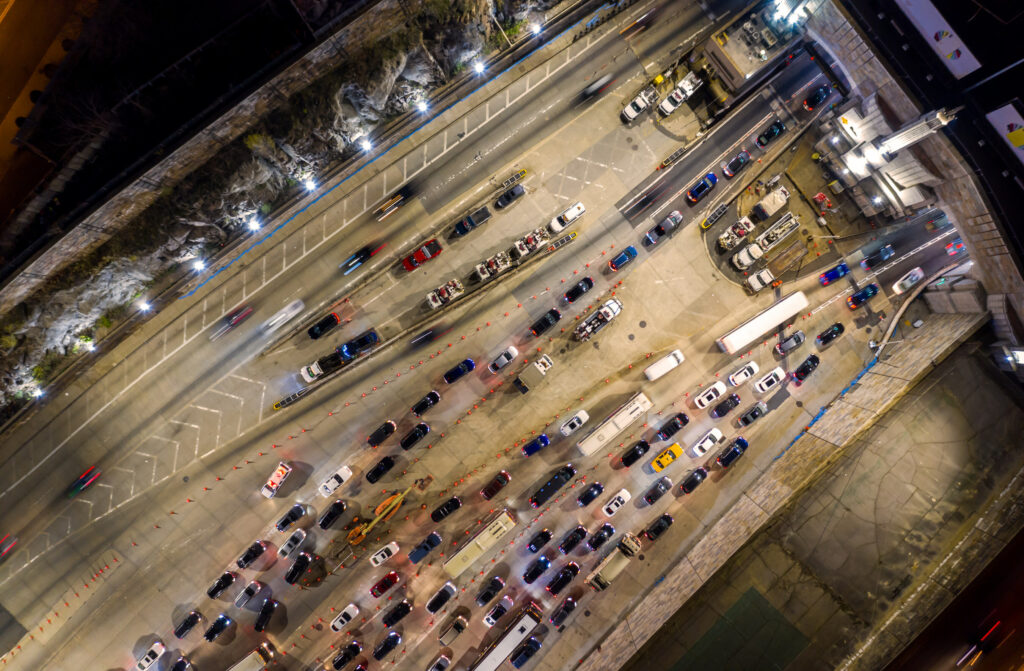 Year-long pilot applies cloud-computing and artificial intelligence to improve operations on some of the world's busiest bridges and tunnels
GridMatrix has partnered with The Port Authority of New York and New Jersey to launch GridMatrix's cloud-based software platform for advanced traffic analytics on the Lincoln Tunnel, Holland Tunnel, and George Washington Bridge. Collectively, these bridges and tunnels carry more than 180 million vehicles annually between New York City and New Jersey.
GridMatrix's software combines feeds from existing sensors, including cameras, radar, and inductive loops, and analyzes them with cloud-based machine learning algorithms to provide real-time analytics of vehicular traffic congestion, emissions, and safety hazards. GridMatrix is solely using live public feeds from existing Port Authority cameras for this deployment.
Port Authority personnel, including transportation planners, data scientists, and facilities managers, will use data and insights from GridMatrix's software platform to improve operations across the agency's three Hudson River crossings that are essential links to the regional highway system and connectors of commerce and people between New York and New Jersey.
"It's a privilege to partner with the Port Authority and support its sustainability, safety, and broader operational goals. Innovative transit agencies like the Port Authority are expanding the definition of infrastructure from purely built and physical to include a digital, informational overlay powering safety and efficiency improvements," said GridMatrix CEO Nick D'Andre.
"The Port Authority is proud to provide opportunities for the exploration of new technology that can help people move seamlessly and safely through our facilities to keep the New York-New Jersey region moving," said Rob Galvin, the Port Authority's chief technology officer. "For more than 100 years, the agency has been at the forefront of technology to build infrastructure and physically make connections between people and goods, and this collaboration with GridMatrix reflects our goals to operate at the highest standards possible."
GridMatrix was selected from a global pool of more than 150 mobility startups for a solution proof-of-concept with the Port Authority, which then deployed GridMatrix's software platform on the agency's George Washington Bridge in summer 2022 as part of the Partnership for New York's Transit Tech Lab Sustainability Challenge. Other regional transit agencies participating in the Sustainability Challenge include the Metropolitan Transportation Authority and NJ TRANSIT. The technology was also deployed at the Holland and Lincoln tunnels in January 2023. During the deployment, the Port Authority identified GridMatrix's software platform as a scalable system for detailed data collection, network effect measurement, policy analysis, and interagency reporting.
"Gridmatrix has demonstrated how its technology is uniquely positioned to provide critical insights to adapt to a changing mobility landscape. Agencies should be empowered to use new technologies to reduce staff time to collect data and improve data quality to ensure our roads are as safe, clean, and efficient as possible," said Stacey Matlen, Vice President of Innovation at the Partnership for New York.
GridMatrix will further adapt its platform to the Port Authority's needs throughout the coming year. The deployment will include the development of new predictive algorithms for operational improvements.
Category: Driver Stuff, Featured, Fleet Diagnostics & Software, Fleet Tracking, General Update, News, Safety, Tech Talk, Transit News