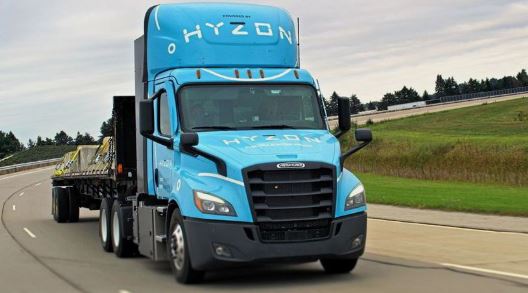 TR Group is a heavy commercial vehicle rental and lease partner in Australia and New Zealand. With 6,200 tractors in their fleet
Hyzon Motors Inc. (Hyzon) (NASDAQ: HYZN), a leading hydrogen fuel cell technology developer and global supplier of zero-emission heavy-duty fuel cell electric vehicles (FCEVs), today announced a revised commercial agreement with TR Group, New Zealand's largest heavy-duty truck fleet owner, for up to 20 FCEVs upfit with Hyzon's single stack 200kW fuel cell system starting with a commercial trial.
The first two trucks are scheduled to be ready for commercial trial beginning in March 2024, and will be deployed for up to three months. Following the initial commercial trial, TR Group has an option to purchase the two trial trucks as well as to upfit another 18 trucks with Hyzon's 200kW fuel cell systems to be assembled at Hyzon's Melbourne, Australia facility.
This new agreement cancels and supersedes a previously announced agreement from January 2021, providing a revised commercial path for TR Group's first Hyzon FCEV truck deployments.
"We look forward to deploying the first trucks with 200kW fuel cell systems produced by Hyzon in heavy-duty operations with TR Group. It marks a significant step toward the full commercialization of our single stack 200kW fuel cell system," said Hyzon CEO Parker Meeks. "The critical competitive advantages our system offers, including improvements in total volume, manufacturing costs, total weight, and fuel efficiency, will help accelerate the decarbonization of the transportation sector, with TR Group leading the way. Additionally, the upfitting contract in place for TR Group's optional 18 FCEVs aligns with our cash-efficient and technology-focused business model."
TR Group is a heavy commercial vehicle rental and lease partner in Australia and New Zealand. With 6,200 tractors in their fleet, TR Group would be a top-20 for-hire carrier in the U.S. based on fleet size1. For over 30 years, TR Group has focused on understanding what vehicles its customers require and providing them with heavy commercial vehicle solutions to support the performance of their businesses.
"We have had great uptake from customers for these vehicles, who share similar values to ourselves when it comes to decarbonizing the transport network and making the world a greener place," said TR Group's General Manager Brendan King. "We are serious about reducing our impact on the environment. Hyzon's 200kW heavy-duty FCEV trucks give us real world use of this zero-emission technology and allow us to develop solutions for local conditions."
The New Zealand Government has been a key support in this project, awarding TR Group funding from the COVID Response and Recovery Fund and the Energy Efficiency and Conservation Authority (EECA). TR Group has an offtake agreement with Hiringa Energy for hydrogen supply. Hiringa has also received support from the New Zealand government to establish a hydrogen refuelling network, as part of the NZ$3 billion 'shovel ready' infrastructure program2.
This announcement follows the commercial trial deployment of Hyzon's first Heavy Rigid fuel cell electric waste collection truck to REMONDIS Australia, one of the world's largest recycling, service, and water companies.
Category: Cab, Trailer & Body, Electric Vehicles, Engines & Drivetrains, Equipment, Featured, Fuel & Oil, General Update, Green, News, Products, Vehicles