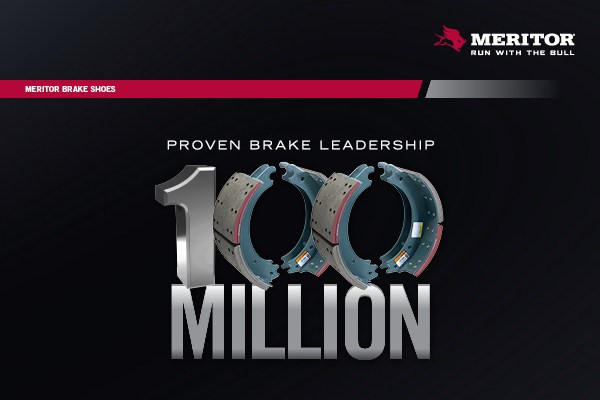 Producing Nearly Half of All Aftermarket Brake Shoes in North America
Meritor, Inc. celebrated the production of its 100-millionth brake shoe at its Plainfield, Ind. manufacturing facility.
The plant, which opened in 1999, remanufactures and manufactures new brake components and plays a major role in the commercial truck market. Responsible for nearly 50 percent of aftermarket brake shoe production, Meritor is the industry leader for brake shoes in North America.
"The 100-millionth brake shoe is symbolic," explained Gene Evans, site manager. "It represents the company's stability, dedication to quality, and years of building long-term relationships with customers and fleets."
Brake shoes are a critical safety component in drum brakes used to stop commercial vehicles and are therefore necessary in ensuring essential goods and services keep moving. The plant, which employs 250 team members, has safely continued with production throughout the COVID-19 outbreak in order to keep its customers on the road.
"One hundred million brake shoes in 21 years is a big deal. Reaching this milestone during a global pandemic, when the world is relying on trucks more than ever, is exceptional. This achievement is a testament to the efforts of the entire Meritor team to keep the world moving," said Eric Coffman, senior product manager.
Category: Breaks, Suspensions & Chassis, Equipment, Featured, Fleet Maintenance, General Update, News