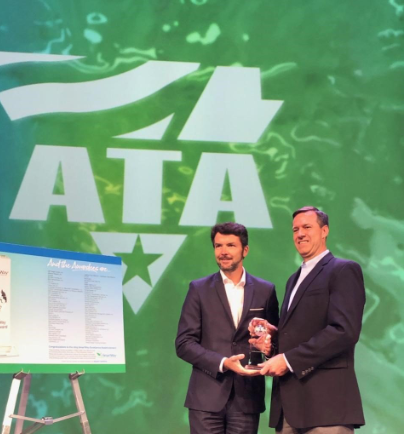 Award recipients are top environmental performers and leaders for freight supply chain efficiency
Michelin North America, Inc., received a prestigious 2019 SmartWay Excellence Award today for outstanding environmental performance and leadership.
Michelin was one of 17 shipper and logistics companies to receive this distinction at the American Trucking Association's (ATA) Management Conference & Exhibition in San Diego, Calif., representing the best environmental performers among SmartWay's 3,700 partners. The award is the United States Environmental Protection Agency's highest recognition for leadership in freight, supply chain, energy and environmental performance, achieved by improving freight efficiency and contributing to cleaner air throughout the supply chain.
"At Michelin, we innovate passionately to make road mobility safer, more convenient and environmentally friendly in all areas of our business" said Alexis Garcin, chairman and president, Michelin North America.
"We are honored to receive the EPA's 2019 SmartWay Excellence Award for outstanding environmental performance leadership for the second time. This honor affirms the industry-leading positions Michelin has in sustainable mobility."
As part of its sustainability efforts, Michelin not only continually analyzes shipping routes to optimize freight flow and reduce empty miles but also has a dedicated process to reduce greenhouse gas emissions, water and energy consumption, and material impacts on the environment through the Michelin Environmental Footprint indicator. Michelin manufacturing facilities and warehouses strive to reduce each location's power consumption, optimize the layout and favor multimodal solutions to reduce the impact on the environment.
Michelin manufactures a portfolio of SmartWay-verified tires and retreads as well as the new EnergyGuard aerodynamic trailer system, allowing the transportation industry to operate more efficiently. Rolling resistance accounts for approximately a third of fuel costs. A 3% reduction in rolling resistance translates into a 1% fuel savings.
"This year, the EPA's SmartWay Transport Partnership is recognizing 13 shippers and four third-party logistics providers as recipients of the 2019 SmartWay Excellence Award," said Sarah Dunham, EPA director of the Office of Transportation and Air Quality. "These awardees are the top 2% of environmental performers among all of our SmartWay Partners. They are redefining best practices for freight transport by reducing fuel costs and improving the public health of the communities they serve."
Category: Featured, General Update, News, Wheels & Tires