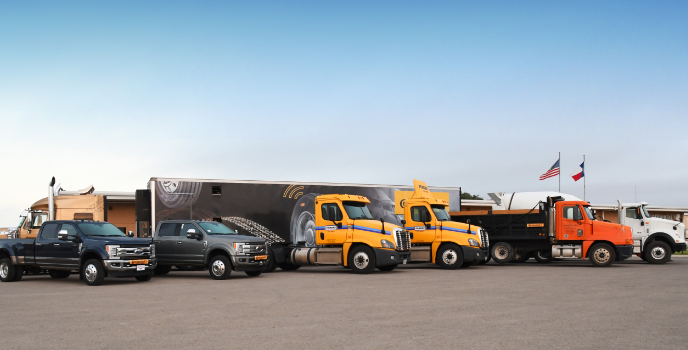 Continental Demonstrates Complete Solutions for Construction at Uvalde Proving Grounds
Continental, one of the largest automotive suppliers and tire manufacturers in the world, demonstrated complete solutions for the construction and other on/off-road industries at its proving grounds in Uvalde, Texas, on September 24-26, 2019. Approximately 100 attendees viewed demonstrations of Continental's broad tire portfolio, from 19.5" to medium and heavy truck tires to earthmoving Off The Road (OTR) tires, as well as digital tire monitoring solutions.
The event served as the public debut of Continental's new Generation 3 construction truck tires for on/off-road or mixed use. The Conti HSC 3 steer/all-position tire, Conti HDC 3 drive tire, and Conti HAC 3 all-position tire deliver key benefits for the on/off-road application, including construction, cement, utility, emergency vehicles, forestry and logging.
The tires deliver high performance in mileage, durability, traction, and retreadability, the key aspects for Lowest Overall Driving Cost in the on/off-road segment. All arrive from the factory pre-equipped with Continental tire sensors for digital monitoring of tire pressure and temperature, and are covered by a 6 year, 3 retread warranty.
Continental chose to pre-equip these tires with sensors due to the inherent benefits of tire monitoring in the on/off-road environment. During the off-road portion of the construction application, tires are more susceptible to cuts, chipping and chunking, and punctures.
Additionally, the tires operate under heavier loads in a limited radius, meaning there is quite a bit of starting, stopping, braking, thus causing heat build-up – especially in warmer regions during the summer season. This is where it's critical to ensure that tires always have properly maintained air pressure and to monitor internal casing temperature.
By embedding sensors in each of these new construction tires, Continental now offers a complete solution for the extremely demanding construction application. Continental's digital solutions help fleets reduce downtime, improve safety and fuel efficiency, and minimize labor and maintenance costs associated with tire inspections. Digital tire monitoring solutions are key in this increasingly technological environment where fleets need to maintain premium tire casings and reduce the overall driving costs.
Continental's newest generation of construction tires for mixed service deliver the performance fleets demand in mileage, durability, traction, and retreadability. Intelligent tires enhance all these benefits through digital tire monitoring.
Digital Tire Monitoring Solutions
Every Generation 3 construction tire and radial Off the Road tire comes pre-equipped with a tire sensor, direct from the plant. Sensors are mounted on the inner liner of the tire for maximum accuracy and protection from theft and damage. Unlike valve-mounted sensors which can be damaged during curbing and which use an algorithm to calculate values, the Continental sensor is securely adhered to the inner liner of the tire and physically reads the air pressure and temperature.
Continental offers multiple receiver systems to read the sensors. One characteristic that helps Continental digital tire monitoring solutions stand out from other systems on the market is that components of all systems can be combined to take advantage of different functionalities, thus creating a customized fit for each fleet.
ContiConnect® is ideal for fleets whose trucks or buses return to the terminal daily. The yard reader station, mounted in the fleet yard, collects data from all the tire sensors within range, an approx. 65-foot radius. It is typically mounted at a guard shack, fuel island, or other central point in the fleet yard. The data is analyzed and displayed in the online ContiConnect web portal, which is mobile-friendly for viewing on phones or tablets. The system also triggers text and email alerts for low tire pressure or high temperature, using custom thresholds set by the fleet within the system's operating limits.
Event attendees experienced receiving ContiConnect alerts on their cell phones.
"ContiConnect is an accessible solution for domiciled fleets, such as those used in construction and regional hauling," said Michelle Reinhart, Continental's head of digital solutions for commercial vehicle tires in the Americas region. "We don't charge by vehicle. The yard reader picks up all the tire sensors within range and delivers the data to the web portal. The portal sends text and email alerts if low pressure or high temperature thresholds are breached, and the trigger levels can be set by each fleet. This allows the maintenance manager to confirm proper tire pressure before vehicles leave the fleet yard, and as soon as they return. It's a simple way to maintain control of your tire program."
ContiPressureCheck® monitors a single vehicle in real-time, alerting the driver to tire pressure and temperature issues via an in-cab display. It is ideal for fleets whose trucks or buses are away from the terminal for long periods of time, and for owner-operators. The ContiPressureCheck system can also be connected to any of our telematics partners for remote data viewing in the telematics platform. Current partners include Zonar, PeopleNet, and Geotab for truck and bus telematics, and Road Ready for trailer telematics.
"With Continental's ContiPressureCheck system, the driver can monitor the tire pressure situation in real-time, and determine whether they need to immediately pull off the road or whether they can safely make it to the next service station," explained Reinhart. "By adding a telematics integration, a fleet manager or dispatcher could help with this analysis in real-time as well."
Event attendees learned about ContiConnect and ContiPressureCheck from Michelle Reinhart, Continental's head of digital solutions for commercial vehicle tires in the Americas region, and Trey Thompson, digital solutions field engineer. In a live demonstration, they showed how Continental's digital tire monitoring solutions react to a tire with low air pressure.
For OTR tires, the embedded sensors can also be used in a new service concept, the ContiLogger Live, which was demonstrated by Adrian Leu, Senior Technical Solutions Manager for Commercial Specialty Tire in the Americas. ContiLogger Live uses a telematic device with integrated sensors to measure speed, distance, location, lateral forces, road grade, production activity, tire pressure and tire temperature. The system issues warnings for critical conditions like: long idling time, high TMPH (ton miles per hour), low efficiency cycle pattern, low inflation pressure and high tire temperature.
ContiLogger Live is designed to operate independently, being able to monitor thousands of vehicles. In more complex situations, field engineers can make customized recommendations on significant tire challenges, possible application improvements aimed at optimizing tire, equipment life and operational processes. This consultancy service can help customers cut operating costs and improve applications.
Continental also offers a digital tire monitoring solution targeting greenhouse gas regulation compliance. ContiPressureCheck® Solo is a stand-alone tire pressure monitoring system for trailers, compliant with pending GHG 2 greenhouse gas regulations from the EPA, National Highway Traffic Safety Administration, and California Air Resources Board.
"If the legislation stays as currently written, fleets will be able to meet all GHG 2 regulations with just two simple items from Continental: the ContiPressureCheck Solo trailer TPMS and our extremely low rolling resistance tires," explained Michelle Reinhart. "That's it, just two products and your trailer can be GHG 2 compliant. You won't need an aerodynamic kit or any additional products."
Components of the systems can be combined. For example, we have customers using ContiPressureCheck® in-cab displays along with ContiConnect® Yard, so drivers can be informed while on the road and the fleet manager see the data in the web portal once the trucks return to the fleet terminal.
Uvalde Proving Grounds
The Uvalde Proving Grounds are approximately 5,000 acres of land located in Uvalde, Texas. Tires have been tested there since 1959, and Continental has owned the site since its acquisition of General Tire in 1987. The proving grounds started with just two tracks, and now has about 26 paved and off-road test courses.
Many major Original Equipment Manufacturers (OEMs) test at the facility, as well as research companies and autonomous driving technology companies for both passenger vehicles and trucks. Types of testing handled on the grounds include fuel, durability, endurance, wear, mileage, braking, wet handling, dry handling, stone retention, chip/chunk, steering response, handling behavior, and more.
Category: Featured, General Update, News, Wheels & Tires