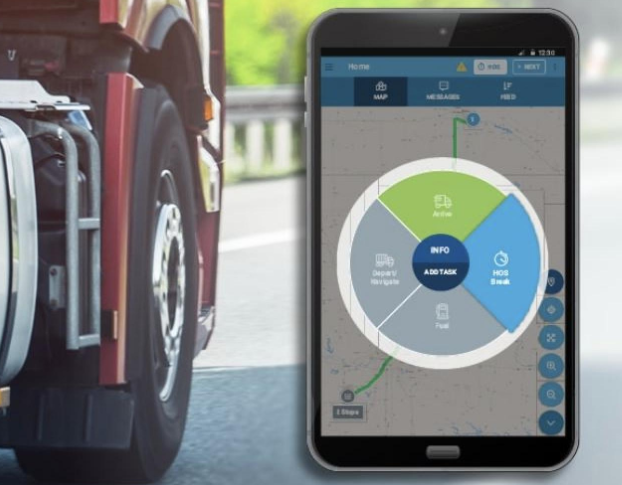 New Products Deliver Industry-transforming Driver and Mobile Worker Experience in Commercial Fleets
Omnitracs, LLC has completed the integration of Blue Dot Solutions' driver and mobile worker workflow technologies (formerly known as MilesAhead™) into Omnitracs One, Omnitracs' platform for enterprise-grade mobility.
"Designed to streamline everyday processes while optimizing every mile, Omnitracs One is every commercial fleet's platform of the future," said Ray Greer, CEO of Omnitracs. "Whether Over-The-Road or Last-Mile, drivers and mobile workers alike demand efficiency and simplicity. Forward-thinking fleets are aggressively deploying solutions to meet those needs. Omnitracs' acquisition of Blue Dot's MilesAhead products happened in March, and I'm excited to announce that the technical integration is now complete."
This milestone signals Omnitracs' commitment to making the industry's most trusted solutions also the most intuitive. New workflow-enabled experiences are powered by Omnitracs' unified fleet planning and execution platform – Omnitracs One. Collectively, these new products enable commercial fleets to deliver unmatched efficiencies while reducing redundant or wasted work for the workforce on the go. Omnitracs' workflow product family includes:
Omnitracs Drive – an intuitive, user-friendly mobile application that guides commercial drivers and mobile workers across every daily job task on a per-stop basis, with integrated features to manage all aspects of compliance, safety and trip management.
Omnitracs Command – the design and configuration tool for Omnitracs Drive, delivers simplicity to the process of creating, modifying and maintaining fleet workflows and tasks.
In addition to unified and intuitive design and simple, step-by-step instructions, Omnitracs' new workflow product family also makes data more valuable through automated exchanges between the mobile worker, their supervisors and back-office operations teams. The Omnitracs One platform also enables real-time data exchange between multiple workflows as well as other systems within the enterprise, simplifying processes while providing a "single source of truth" for mobile data capture.
"With the integration of the Blue Dot MilesAhead solution, Omnitracs is now poised to transform the trucking and logistics industry," said Mick Milnark, VP of Workflow Solutions at Omnitracs. "Intuitive design drives down training requirements and simplifies each driver's day, improving behavior, satisfaction and turnover. Omnitracs products now set the industry standard for ease-of-use."
Category: Connected Fleet News, Featured, Fleet Diagnostics & Software, Fleet Tracking, General Update, News, Safety