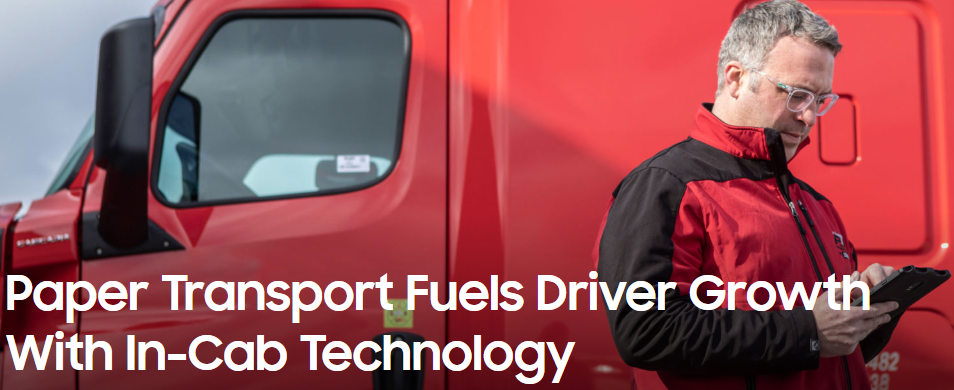 Samsung Tablet Implementation Has Increased Paper Transport Driver Engagement and Retention
Samsung Electronics America and truckload carrier company Paper Transport, Inc. today announced the successful implementation of digital solutions using Samsung's tablet technology across Paper Transport's trucking fleet. Wisconsin-based Paper Transport – which has nearly 900 truck drivers in the field – modernized its fleet by deploying Samsung tablets with essential applications, including hours-of-service logging, route optimization, driver-to-driver communications and training tools that transformed how the company trains its workforce.
Paper Transport's mobile solution for its fleet included deployment of the Samsung Galaxy Tab Active2—a ruggedized tablet tailor-made to withstand harsh conditions. This enabled Paper Transport to upgrade its antiquated in-cab system to a newly digitized, real-time fleet management solution that includes a new Learning Management System designed to improve driver education, training and support. As a result, Paper Transport has seen improved driver recruitment, engagement and retention – essential elements for success in a fleet management operation.
Fleet Training Transformation By deploying the new tablets in truck cabs, Paper Transport can more effectively deliver fleet-wide training to its drivers—most of whom are remote—and offer a simpler way to remain up to date on the latest compliance mandates and safety guidelines. Moreover, Paper Transport's drivers gain access to the company's Learning Management System, which provides a self-educating method of training that is accessible from anywhere. Drivers have the ability to ask questions in real-time and engage in a virtual classroom format through face-to-face video, as well as audio and text communications.
The tablets also enable Paper Transport to provide their truck driving fleet a way to enjoy their personal time. During breaks, they can choose from a pre-approved suite of games for entertainment, enabling them to unwind before getting back on the road.
"Since the Samsung implementation, we've seen driver engagement increase nearly four times, and turnover has reduced nearly 10 percent – even as we see 19 percent growth year over year," said Peter Covach, Director of Information Technology at Paper Transport. "The ruggedized Samsung Galaxy Tab Active2 tablet is essential technology for an industry like fleet management and transportation – and it is a key tool in our digital transformation."
Business-Ready Devices To ensure consistency in device management, including updates, Paper Transport implemented a company-wide mobile device management (MDM) policy using Samsung Knox security APIs. Paper Transport also partnered with Omnitracs, LLC, a global pioneer in fleet management solutions to transportation and logistics companies, to incorporate workflow management and electronic logging device (ELD) compliance software on the Samsung tablets. Samsung's Android-driven open architecture allowed Paper Transport to easily import the apps needed to track driver scorecard progress on factors such as speed and safety.
"Samsung's enterprise tablet solutions are designed with the business user in mind, and we're excited to help Paper Transport equip their fleet with a solution that not only improves driver experiences but also assists in driver retention," said Taher Behbehani, Senior VP and General Manager of Mobile B2B, Samsung Electronics America, Inc. "As the digital transformation of business accelerates, mobile workers in the transportation industry can benefit from solutions that are purpose-built to fit specific enterprise needs."
Category: Connected Fleet News, Driver Stuff, Featured, General Update, News, Tech Talk