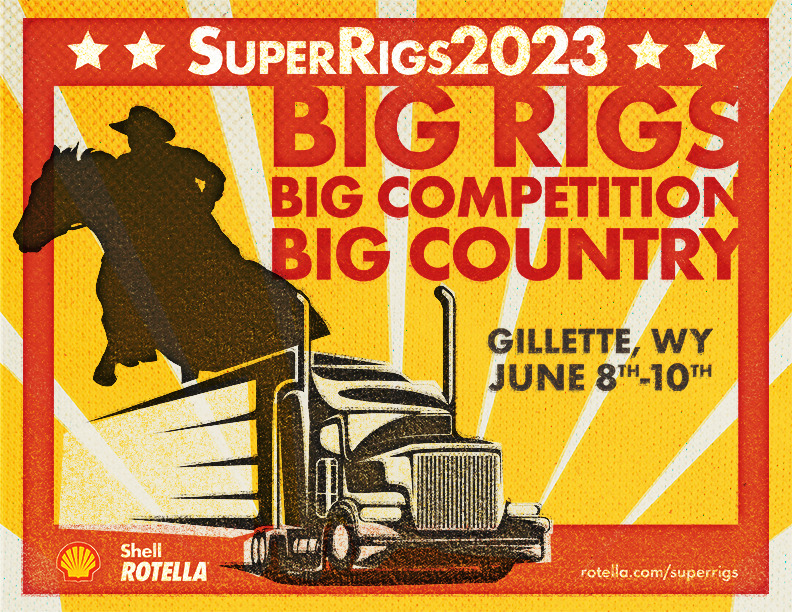 Truck Beauty Competition to be held June 8-10 at CAM-PLEX in Gillette, WY
Shell Rotella® SuperRigs® will be riding into Wyoming from June 8-10 at CAM-PLEX (off of Interstate 90) in Gillette with the theme of Big Rigs, Big Competition, Big Country. Truck drivers throughout North America will have the chance to enter the annual truck beauty contest which celebrates the hardworking trucking community.
"The incredible trucks entered each year are a testament to the drivers that put in the hard work to make them a source of pride for the trucking industry. We're excited to see what this year's competition has in store," said Heather Duffey, global commercial road transport integrated communications manager, Shell Rotella.
There are numerous events and activities being planned that will honor the shared spirit of cowboys and truckers. SuperRigs contestants, their families, and the community will be able to see some of the best-looking and hardest-working big rigs in North America, all while enjoying some family fun throughout the three-day event.
Virtual Hot Spots:
Shell Rotella Ambassadors: Eleantay McClure, @TruckingWithTay, Cole Sonne, @SonneFarms and Mike Gaffin, @TheBostonTrucker will be bringing SuperRigs to life on social media throughout the three-day event. Be on the lookout for special Facebook/Instagram Live videos from the Judge's Lane on the Shell Rotella social channels.
People's Choice: The People's Choice Award will take place virtually, opening the competition to truck drivers across North America that are not able to enter SuperRigs in person.

Truck drivers were able to submit their rig for a chance to win the Virtual People's Choice award! Voting for fans, family and friends opens on June 3 and will close on June 9.
This year, $1 for every People's Choice vote tallied will be donated to the St. Christopher Truckers Relief Fund.
The winner will be announced as part of the awards ceremony at SuperRigs. To vote for the Virtual People's Choice Award, visit MyMilesMatter.
CAM-PLEX Activities:
Truck Parade: On Thursday night, contestants participate in the truck parade through downtown Gillette. It is a great way to kick off the event and allow contestants to show off the trucks they spent so much time preparing for the competition.
Contestant Dinner: The SuperRigs contestant dinner will take place on Friday. The dinner is open to contestants and one guest.
Truck Light Show: When the sun goes down, the lights go on! On Friday night, contestants will make jaws drop when they turn CAM-PLEX into a mosaic of colors and lights as they compete for the "Best Lights" category.
Pillage People Concert: Friday night will also feature a performance by the Pillage People, a local fan-favorite band.
Drone Show: After the SuperRigs contestants light up the grounds at CAM-PLEX on Friday night, a drone show will light up the sky with a mesmerizing display of patterns and designs.
The Shell Rotella SuperRigs competition is the premier truck beauty contest for actively working trucks. Hardworking owner/operators from across the United States and Canada compete annually for more than $25,000 in cash and prizes. Twelve drivers will be selected to have their trucks featured in the 2024 Shell Rotella SuperRigs calendar. There is no fee to enter SuperRigs and the weekend is designed to be fun for the whole family.
Trucks entered in the Shell Rotella SuperRigs truck competition will be judged by experienced industry professionals who work for major trucking publications or broadcast companies. Judges score the rigs on exterior appearance, design, detail/finish, originality and workmanship.
A schedule of events can be found below. All times are Mountain Standard Time.
Thursday, June 8
7:00 a.m. – 5:00 p.m. Event Registration
8:00 a.m. – 5:00 p.m. Judging Lane hours
7:00 p.m. – 8:30 p.m. Parade thru Gillette
Friday, June 9
7:00 a.m. – 5:00 p.m. Event Registration
8:00 a.m. – 5:00 p.m. Judging Lane hours
8:00 p.m. – 10:00 p.m. Best Lights Judging
9:00 p.m. – 10:00 p.m. Concert – Pillage People
10:00 p.m. Drone Light Show
Saturday, June 10
7:00 a.m. – 10:00 a.m. Event Registration for pre-registrants only
8:00 a.m. – 11:30 a.m. Judging Lane hours
2:00 p.m. – 3:30 p.m. Shell Rotella SuperRigs Awards Presentation
4:00 p.m. Event Closes
For updates on the Shell Rotella SuperRigs competition, visit www.rotella.com/superrigs. Be sure to follow Shell Rotella on Facebook, Twitter and Instagram for additional updates and photos from the competition. Join the conversation via social media using the hashtag #SuperRigs.
The information contained herein is a summary of the Official Rules for the Shell Rotella SuperRigs truck competition, a full version of which can be found on www.rotella.com/superrigs.
###
Category: Cab, Trailer & Body, Cab, Trailer & Body New, Driver Stuff, Equipment, Featured, General Update, News, Products, Vehicles