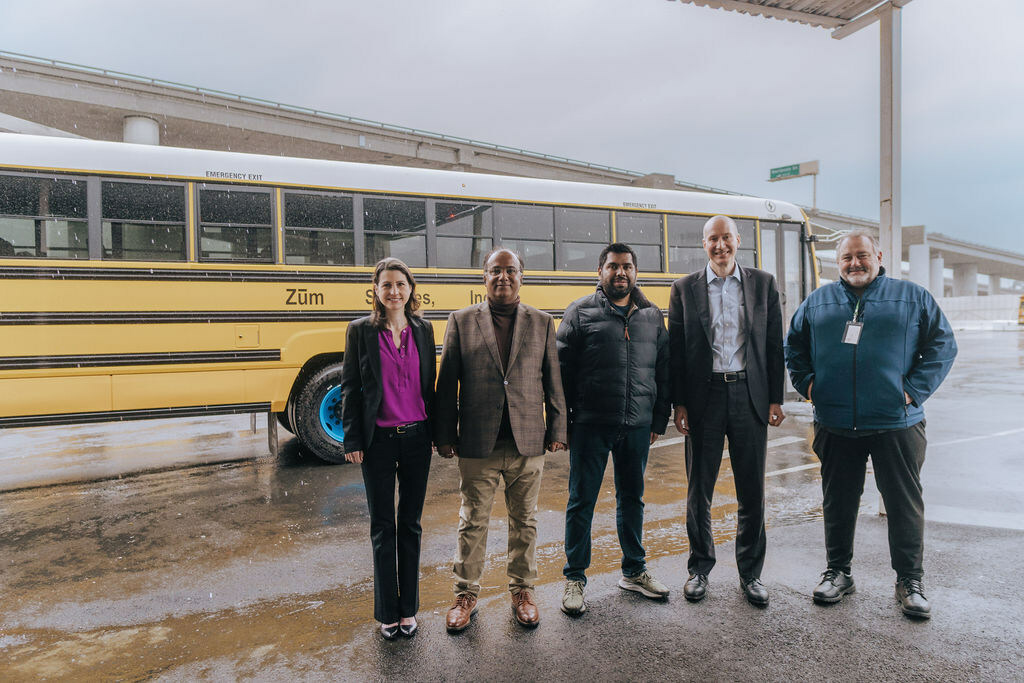 Visit Included a Tour of Zum's San Francisco Bus Yard and Ride-Along on a Zum EV School Bus
The Deputy Secretary of the U.S. Department of Energy, David Turk, met with executives and staff at Zūm, the nation's leader in modern, sustainable student transportation.
The visit, which took place at Zum's San Francisco bus yard, included a tour of the facilities, a ride on one of Zum's electric buses, and a meeting with Zum leadership, including company founder and CEO, Ritu Narayan, and co-founder and COO, Vivek Garg, as well as Archie Fokin, Executive Director, Transportation Department, San Francisco Unified School District.
"We were honored to host Deputy Secretary Turk and discuss our shared commitment to sustainability, innovation and equity in student transportation," Narayan said. "Zum is proud to be leading an industry-wide shift in transitioning the nation's 500,000 school buses from diesel to electric. We commend our district partners and the Administration in supporting our vision for a zero-emission future."
The Deputy Secretary also met some of the Zum operations staff and drivers who serve more than 3,500 students and 200+ bus routes in the San Francisco Unified School District.
Zum serves thousands of schools nationwide, including the nation's second largest school district, Los Angeles Unified School District. Other innovative school districts that have partnered with Zum for their student transportation needs include Oakland Unified School District, Metro Nashville Public Schools and Seattle Public Schools.
Zum's solution addresses:
Sustainability – Transportation is the largest contributor to greenhouse gas emissions, and the U.S. student transportation system – the nation's largest mass transit system – costs $28 billion per year. As the first and only 100% carbon neutral student transportation company in the U.S., Zum is committed to transitioning school bus fleets to electric vehicles. Through its Net Zero Initiative, the company has already offset 100% of its fleet's carbon emissions.
Efficiency – Zum's cloud-based routing platforms decrease commute times and costs. School districts and families are already seeing the benefits of working with Zum: San Francisco Unified School District is on track to save $15 million over the next five years. In Oakland, the number of students spending more than one hour on a bus has dropped from 70 percent to less than 10 percent.
Transparency – Through the Zum app, parents receive real-time information about vehicle location and their child's pickup or drop off time and status. District administrators and operators are able to track rides, and routes are adjusted in real time to account for absent students or traffic issues.
Safety – Through Zum's proprietary safety technology, driver training, and certification program, SafeGuard, all drivers not only meet and exceed all state and federal requirements but also are trained on and required to adhere to specific protocols while picking up or dropping off students and while driving.
Equity – Modernizing transportation can address inequalities the current system exacerbates. Students with longer average times on buses report lower grades, fewer social activities and poorer study habits. Because low-income families, children of color and children with special needs are more likely to depend on school buses, they're disproportionately affected. Zum works to ensure equity and access for all students.
Zum's solution is built around the needs of students, families and the teachers, administrators and drivers committed to creating the best educational experience for children
Category: Electric Vehicles, Equipment, Featured, Fuel & Oil, General Update, Green, News, People, Safety, Tech Talk, Transit News, Vehicles