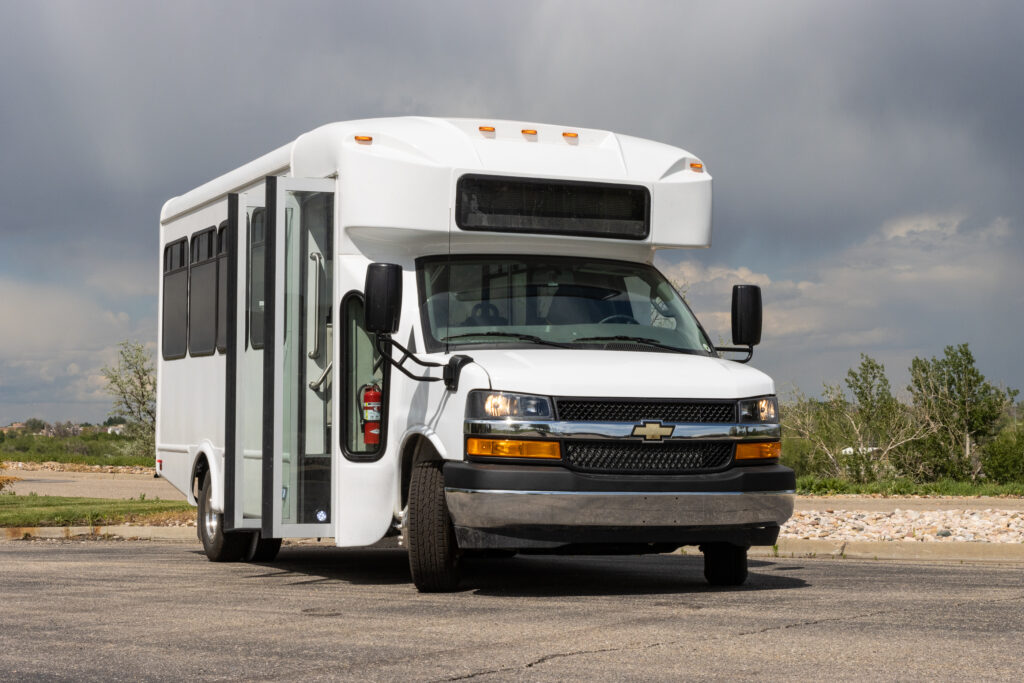 Lightning eMotors supplying Vanderbilt's first electric shuttles as part of the university's carbon neutrality goals
Lightning eMotors zero-emission, medium-duty commercial vehicles and electric vehicle technology for fleets, announced is supplying to Vanderbilt University six Lightning ZEV4™ electric shuttle buses. The shuttles are expected to be delivered and deployed in Q2 2023 for the intercampus transportation service, VandyRide.
The zero emission shuttle buses are built on the GM-based Lightning ZEV4 platform and feature 120 kWh of thermally-managed Proterra battery packs that deliver up to 130 miles of range and support both Level 2 AC and DC fast charge capability. Vanderbilt's vehicles ride on a 159-inch wheelbase and have been upfitted with shuttle bus bodies from Forest River to carry 14 passengers each.
"A top 20 university nationally, Vanderbilt is renowned for its transformative approach to education and research. It is an honor for us to be a chosen fleet electrification provider as they transform their intercampus student transportation to zero-emission, all-electric platforms," said Jeremy Hiler, sales director, Eastern US at Lightning eMotors. "We are confident drivers, passengers and fleet managers will appreciate the electric performance, quiet ride and reduced maintenance, and of course, the environmental benefits of the Lightning ZEV4."
Vanderbilt is leasing the initial pilot run of six vehicles from Forest River dealer Carpenter Bus Sales, with charging infrastructure supported by Vanderbilt partner Electrada. The vehicles will also be equipped with Lightning's leading EV fleet telematics software, Lightning Insights. This real-time telematics and charge management suite features an API for seamless integration with Electrada's charging infrastructure.
"Vanderbilt is committed to lowering its carbon footprint, so switching to electric vehicles in our shuttle fleet is a top priority," said Lindsey Ganson, assistant director of mobility at Vanderbilt University. "We're so excited to have our Lightning ZEV4 shuttles in action before the fall semester begins, and we are looking forward to working with Lightning."
This EV deployment further establishes Vanderbilt University as a sustainability leader among U.S. colleges. The university recently "flipped the switch" on the 35-megawatt Vanderbilt I Solar Farm in Bedford County, Tennessee, which was first announced in 2020. The location will reduce the majority of the university's greenhouse gas emissions produced indirectly from electricity purchased from Nashville Electric Service and TVA. A planned second solar farm in Moore County, Tennessee, will supply enough renewable energy to mitigate the remaining emissions.
In 2021, Vanderbilt became the first member of the Association of American Universities to achieve carbon neutrality through its own renewable energy initiatives and a carbon pollution permit collaboration with Climate Vault. Recently, the university announced a new collaboration with Clearloop to further reduce its carbon footprint by investing in additional solar energy projects, the first of which will be located in Batesville, Mississippi. The transition to these new EV shuttles will help Vanderbilt further reduce its direct emissions.
Category: Cab, Trailer & Body, Electric Vehicles, Engines & Drivetrains, Equipment, Featured, Fuel & Oil, General Update, Green, News, Products, Tech Talk, Transit News, Vehicles