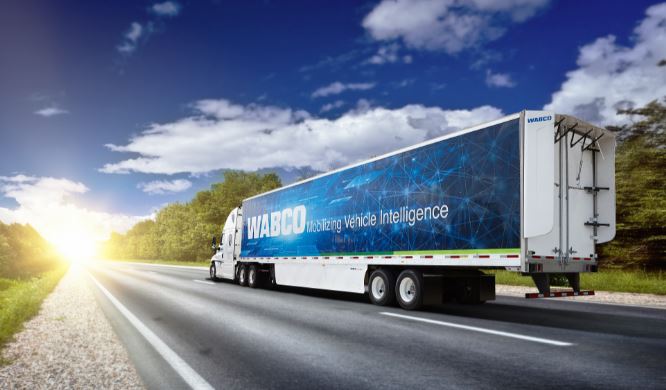 Comprehensive Product, Service, Distribution and Support Underpin Commitment to Be Customers' "Partner in Uptime"
WABCO Holdings Inc. global supplier of braking control systems and other advanced technologies that improve the safety, efficiency and connectivity of commercial vehicles, previewed its dramatically expanded product and service platform designed to help North American commercial vehicle fleets enhance safety and improve the availability, or uptime, of equipment at every stage of its service lifecycle. The platform was announced in conjunction with the Heavy Duty Aftermarket Week '20 conference and exposition in Grapevine, Texas.
Launching in March 2020, the new regional platform will enable customers to access all WABCO replacement components and retrofit kits – including braking and stability control systems, air disc brakes, advanced driver assistance systems (ADAS), air processing and other WABCO-branded products previously distributed by Meritor, Inc. – through an expanded network of authorized WABCO distributors and certified service partners.
To support this strategic business expansion and better serve North American customers, WABCO has substantially upgraded its distribution infrastructure and logistics capabilities within its aftermarket distribution center located in Hebron, Ky. At the same time, the company has formed a dedicated customer experience team comprised of experts in field service, call center support, and technical training who will work hand in hand with a growing network of WABCO service providers specializing in the service, repair and replacement of WABCO products for trucks, trailers, buses, off-road equipment and other vehicles.
"Being a true partner with customers is who we are and how we operate within WABCO," said Jon Morrison, President, WABCO Americas. "We are demonstrating our commitment to customers by significantly expanding our aftermarket portfolio, adding new distribution infrastructure and logistics capabilities, and creating an enhanced customer experience team for OE service providers, aftermarket parts distributors and fleets seeking to maximize vehicle uptime."
To help North American fleets and service providers keep vehicles operating safely and at peak efficiency, WABCO's enhanced customer experience will also include:
A new customer portal featuring online ordering for OES and distributor customers, as well as product information and technical support for the larger customer base;
An expanded regionally-based, multilingual field service team providing both live and virtual technical support; and
A regional version of WABCO's comprehensive training platform, WABCO Academy, tailored to the needs of North American customers. This platform will enable access to detailed technical instruction via self-directed online modules and on-site, hands-on clinics, as well as certification programs across the spectrum of OEM and aftermarket solutions for popular commercial vehicle applications.
"As our customers' true partners in uptime, we are building on WABCO's leadership in the original equipment (OE) sector to provide a dedicated, turnkey solution for OE service providers, aftermarket distributors, independent repair businesses and fleets," said Abe Aon, WABCO North America Aftersales, Service & Support Leader. "We are committed to helping customers keep their vehicles and equipment performing better and longer than ever."


Category: Equipment, Featured, General Update, News