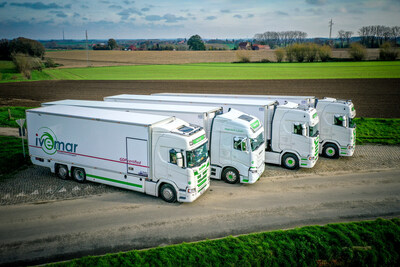 Walden, the leader in pharmaceutical logistics in Europe acquires the Belgian pharmaceutical transport company Ivemar
The group integrates the Belgian company to support the development of its subsidiary Transpharma International, which specialises in first-mile pharmaceutical transport and global freight forwarding.
« The acquisition of Ivemar provides Transpharma International with transport assets, a strong team well practised in GDP and licensed premises located in a key European trade corridor for transport and logistics." Says David Evans, CEO of Transpharma International.
The addition of Ivemar fleet which grow Transpharma International's GDP fleet in Europe to over 250 vehicles offering pan-European temperature-controlled transport for shipments of all sizes (1 pallet up to full truck load). More importantly this also sees the business develop its capability for in-transit storage and cross-docking at licensed warehouse locations close to Brussels, and the addition of licensed and temperature-controlled storage at Brussels airport which is a key development in Transpharma International's strategy to further grow its offering in pharma compliant air freight solutions.
The addition of storage capacity directly at the aircraft exit now enables Transpharma International to strengthen its service offering. Until now, Transpharma International has focused solely on the first-mile transport phase, from APIs to finished products, and can now offer temperature-controlled GDP storage solutions for goods in transit, as well as for the management and optimisation of supply flows to manufacturers from and to the rest of the world.
"As founder and CEO of Ivemar, I am delighted to see the company joining the Walden Group and giving it the chance to grow in a sustainable way. Our expertise and infrastructure are the perfect complement to Transpharma International's network and capabilities, it's a great opportunity to bring additional expertise to the group" says Yves SMETS, CEO of Ivemar.
Category: Cab, Trailer & Body, Connected Fleet News, Equipment, Featured, General Update, Management, News, Products, Vehicles