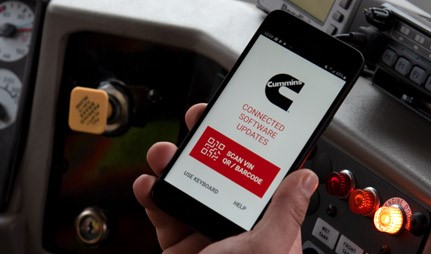 Zonar OTAir, a mobile app to offer Cummins over-the-air programming using a smartphone or tablet device for enhanced engine performance while saving costs and reducing downtime for fleets
Zonar announced the availability of Cummins Connected Software Updates, an over-the-air programming solution for maximizing uptime and performance of Cummins powered vehicles. This solution allows fleet managers and drivers who use Zonar telematics services to manage and deliver over-the-air programming to their Cummins engines using Zonar OTAir, an easy to use app on their smartphone. Fleets that use Cummins Connected Software Updates receive the latest performance enhancements from Cummins by using OTAir, resulting in reduced downtime, increased cost savings and improved vehicle health – without the need of any additional hardware.
Cummins Connected Software Updates empowers fleet managers and drivers with flexibility and an additional level of control over their vehicles. Similar to smartphones and computers, a fleet's engines also require regular updates. These updates are typically centered around specific performance improvements that help ensure a fleet's vehicles are always running at peak performance. With Connected Software Updates, fleet managers and drivers can perform engine software updates on a single vehicle or fleet of vehicles while on the road, allowing customers to scale and expedite service needs. While traditional calibration updates can take up to two days and cost hundreds of dollars in labor, updates through Cummins Connected Software Updates can take as little as five minutes from start to finish with no associated labor costs when using OTAir.
"The availability of Cummins Connected Software Updates through Zonar's OTAir app allows customers with Cummins engines more control and convenience over the performance and management of their fleets, saving time and costs associated with traditional calibration methods," said Todd Mysak, Director Business Development at Cummins Inc. "The collaboration between Zonar and Cummins helps us deliver on our commitment to provide innovative solutions that ensure fleets with Cummins engines perform at optimal levels."
"With Cummins Connected Software Updates, over-the-air programming for commercial vehicles is no longer a future concept," said Gary Schmidt, Vice President of Business Solutions at Zonar. "Through our ongoing collaboration with Cummins, we're bringing a smartphone accessible solution to market that helps fleets eliminate the need to schedule shop visits for calibrations. We believe this will help spur the creation of broader industry innovations focused on reducing the time spent by fleets waiting for updates."
Category: Connected Fleet News, Engines & Drivetrains, Featured, Fleet Maintenance, General Update, News