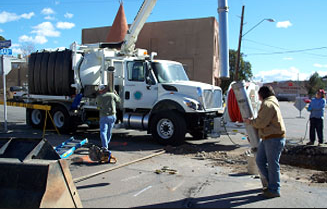 MetTel will deploy advanced location-based services, dispatch automation and monitoring vehicle diagnostics and driver safety data.
Using MetTel's IoT Fleet Management technology, the City of Phoenix is enabling its Public Works and Water departments to deliver more efficient, cost-effective and safer water resources and waste services to residents and facilities to help meet the city's goal of zero waste by 2050.
MetTel will provide telematics hardware and software solutions for tracking vehicles and obtaining essential data for maintenance, routing and customer inquiries for the Phoenix Public Works and Water departments. MetTel will be responsible for collecting and maintaining data required for the continuity of operations for thousands of city vehicles.
Another major transformation focus for the city is to enable more efficient, cost-effective and safe delivery of all-important water resources to residents and facilities. MetTel's IoT Fleet Management technology connects the Water Department vehicles. By connecting and gaining visibility into the mobile workforce information, the city is able to combine real-time information with current business intelligence systems to derive insights on their operations. Insights like fuel usage, proof of service or delivery and driver safety management are key areas of the Water department focus.
"MetTel is thrilled to be selected for IoT Fleet Management technology to help Phoenix automate its public service fleet for greater efficiency, insight and control as part of its ongoing smart city transformation," said Max Silber, Vice President of Mobility & IoT at MetTel. "Waste management and water are crucial to the health and well-being of citizens. IoT technology helps to improve and assure essential delivery and service to Phoenix residents."
This project underscores the need of major US cities to digitally transform their core operations with technology that affords greater scale, agility and efficiency. MetTel's Fleet Management automation harnesses connected vehicles, mobile devices, mobile network connectivity and applications all rolled into an integrated package that accelerates workflow through mobile workforce management and field service automation.
Category: Connected Fleet News, Fleet Diagnostics & Software, Fleet Tracking, Tech Talk, Transit News