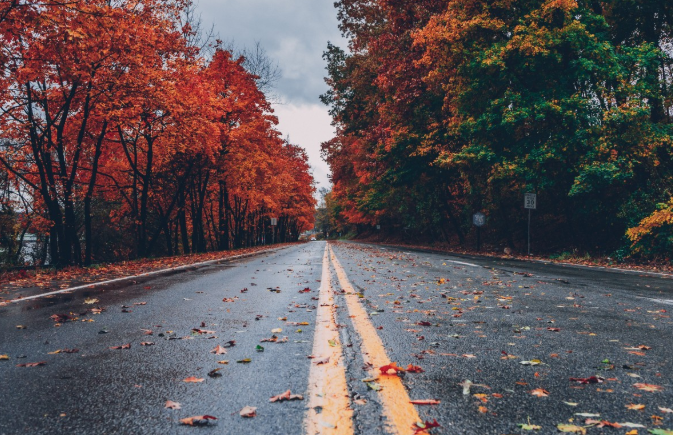 As we move into the autumn months, truck drivers will find themselves spending more time driving in darker conditions, affecting their overall safety
As summer comes to a close and fades into fall, we are ushering in cooler temperatures, changes in weather, and most notably, limited daylight. Virtually everyone is affected by the change in seasons, but for truck drivers especially, this annual change from one season to the next increases their safety risks while on the road. During the fall months, truck drivers find themselves spending more time driving in the dark, directly affecting their depth perception, color recognition and peripheral vision. As the National Safety Council notes, this reduction in daylight plays a crucial role in drivers' overall safety risks while on the road due to the effects of compromised night vision and fatigue.
To complicate matters, increased holiday demand from retailers means longer hours and elevated risk of fatigue. The fall is a time of year where frontline workers need to stay alert and aware of both themselves and their surroundings. Here are some helpful tips for driver safety as we enter the fall season.
Shorter Days, Longer Fatigue
A fatigued workforce is much more inclined to suffer musculoskeletal injuries. In fact, 33% of all injuries that occur in the workplace are from MSIs related to carrying, lifting and repetitive movement. Practicing proper form like keeping your back flat and elbows in while lifting allows the body to use less energy, while operating efficiently. As less daylight has been known to cause fatigue, the National Sleep Foundation also recommends getting at least seven or more hours of sleep a night.
Situational Awareness for Success
While we cannot completely engineer the risk out of the environment, we can give ourselves the best possible training to be prepared. The change in weather leads to outside factors that can be problematic for truck drivers on the road. Factors like wet leaves and frost can make surfaces slippery when stepped on. When exiting the cab of the truck, drivers must watch their step, use three points of contact and always exit the cab backwards. This allows for the use of handles for a stronger, safer descent. With the handles in a firm grasp, drivers are able to test the condition of the surface and securely plant both feet.
Implement a Flexible Safety Program
The busy holiday season calls for increased hiring efforts and the addition of temporary employees to the workforce. A safety program that leverages consistent micro-learning and that is easy to follow allows companies to get the most out of their seasonal hires. As new hires are three times more likely to be injured than current employees, it's important that adequate training is provided to prevent lost time and keep productivity at its highest during the busy season.
Although the fall is a period of steady transition, following these basic tips will help ensure your workforce remains in top operating efficiency by avoiding the preventable slips, trips and falls associated with the season.
John Leo Post is the co-founder and vice president of product for Worklete, a technology platform that reduces musculoskeletal injuries by 53% on average. A renowned movement expert, John has coached with some of the top minds in athletic training, human movement and behavioral psychology, including gold medalists, CrossFit champions, and professional athletes. He is driven by the mission to make quality movement accessible to all and empower humans to live pain-free lives.
Category: Driver Stuff, Featured, General Update, Management, News