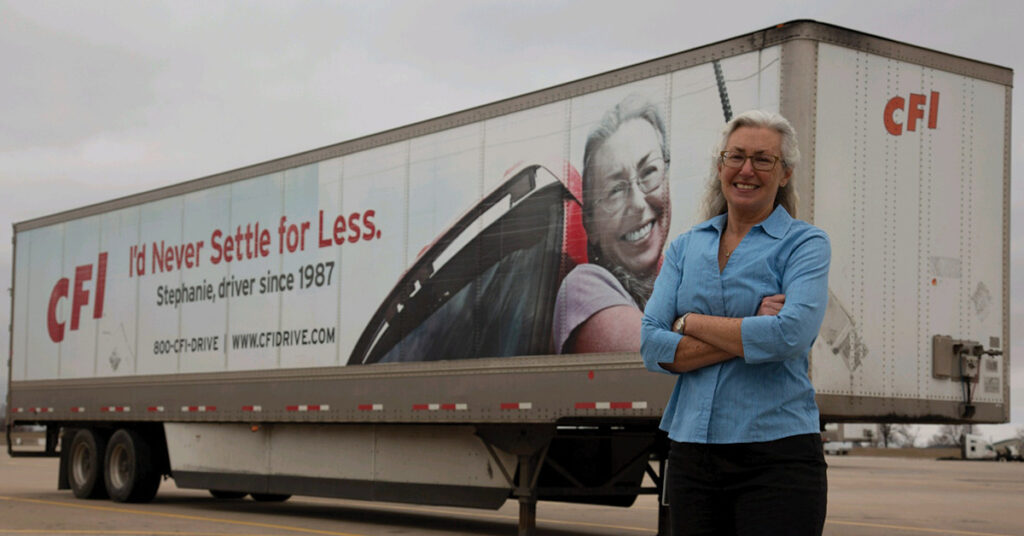 "In my 4 million miles of driving in transportation, I came away with a few things," said Klang. "Do the right thing when no one is watching…"
The Women In Trucking Association (WIT) has announced Stephanie Klang as its June 2023 Member of the Month. As a professional driver for 38 years with 4 million miles, she provides her knowledge and perspective as an industry advocate and driver ambassador.
Klang began her career in the trucking industry in January of 1980. At the time, there were very few driving schools and the regulations were more relaxed, so when she took the written test for her class A license, her husband was allowed to teach her on the job. 
The pair drove as a team for 15 years, traveling through 48 states. However, she was often treated as her husband's helper or as an extra logbook.
This changed in 1987 when she started her career at CFI, a growing company with an open-door policy, commitment to safety and providing excellent equipment. From the first day, she was treated like a fully qualified driver and was able to flourish.
Klang learned about WIT and its mission when Founder Ellen Voie was promoting ride-alongs in 2010. The next year, she was chosen to pick up Debbie Hersman, board member for the U.S. National Transportation Safety Board (NTSB), in Washington D.C. and drive her to the Mid-America Trucking Show (MATS) in Louisville, Ky. A film crew was hired by Conway, her employer at the time, to capture the experience, launching Klang's media career. Due to this successful event, she received Conway's Constellation award in 2012, an honor only awarded to five out of 30,000 employees.
In 2013, she joined America's Road Team (ART). As the only woman nominated, she became the third female driver in the history of ART. With the support of her company, Klang was able to attend several events a year and make a difference in enhancing the trucking industry's image.
In 2015, WIT developed its Image Team, a volunteer group comprised of professional drivers and industry experts who represent the spirit of the association and share their knowledge and experience with the media, at events, and more. Klang immediately jumped at the opportunity to be involved. Additionally, she offered her perspective and expertise by serving on the WIT board of directors.
Klang achieved her goal of retiring from driving at the age of 60, but her influence on the trucking industry was far from over. After retirement, she transitioned into CFI's marketing department to continue attending high school career days and truck shows. When the COVID-19 pandemic began in March of 2020, she took it as a sign to retire.
However, in the fall of 2022, she felt called to continued her involvement with WIT as an Image Team member and driver ambassador for the association's WITney trailer program, educating and amplifying how a career in transportation can be rewarding for women. She speaks at industry events, truck shows, and career days.
"In my 4 million miles of driving in transportation, I came away with a few things," said Klang. "Do the right thing when no one is watching; nothing great is achieved easily or without grit; if you do not like where you are in life, improve yourself and move up; practice and improve every day; and be positive and kind. On the days I did not feel my best, I got up and fulfilled my obligations anyway and they turned out to be some of my best days."
Category: Driver Stuff, Featured, General Update, News, People, Safety